The PoleFit Criss Cross Brazil Shorts are very short shorts cut Brazilian style and shaped and a way to make a scrunch butt! The brazil shorts also expose a maximum amount of skin to allow for as much skin area as possible to be used to hold on to the dancing pole. The shorts are made of an elastic material that moves less on the skin, so it stays in place even with complicated moves. Now with sexy criss cross motif for even more support and style!
| | | | | | |
| --- | --- | --- | --- | --- | --- |
| | XS | S | M | L | XL |
| Size | 0-2 | 4-6 | 8-10 | 12-14 | 16-20 |
| Bust | 30-32 | 32-34 | 36-38 | 40-42 | 44-46 |
| Cup | AA | A-B | B-C | C-D | D-E |
| Waist | 25-26 | 27-29 | 30-32 | 33-35 | 36-38 |
Material: 80% Nylon, 20% Spandex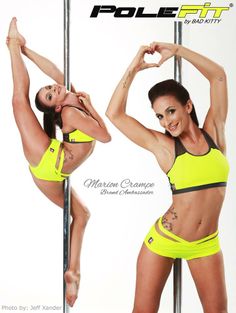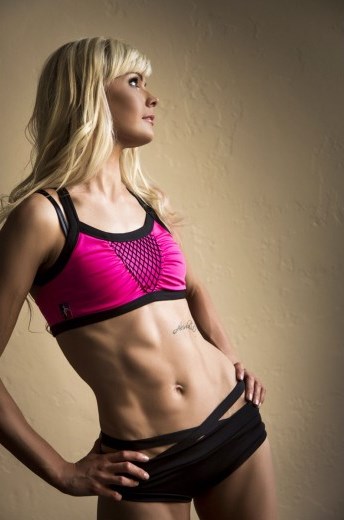 Customer reviews:
Please log in to write a review
Customers who bought this product also bought the following products:
Versatile sweater-wrap top. Poledance in it... run in it...dance in it...just look good in it! Add the Nala hoodie as a stylish accessory to your daily wardrobe or nighttime-fun attire, or use it as a warm-up for your routine! Rock this versatile piece on the dance floor, flare it up with some pump-up kicks; use it as a warm-up wrap, or make this one of your staple after workout pieces.

65,95 EUR

(19 % VAT incl. excl. Shipping costs)
The Mighty Grip Thigh Protector is essential for beginners in practicing leg holds on the pole. Sold in pairs.

29,95 EUR

(19 % VAT incl. excl. Shipping costs)
Poledancerka Knee Pads© are the latest must-haves for all poledancers and dance lovers. Trusted and used heavily by celebrity poledancers: Daria Che, Marion Crampe and Maddie Sparkle, Sergia Louise Anderson, Phoenix Kazree, Amy Hazel and thousands of other professional pole dancers around the world.

Made in Slovenia using only quality Italian and Slovenian materials.

Fabric: 85% polyamide, 15% elastane; Net: 100% polyester; Leather immitation: 80% cotton, 20% polyurethane

Sold in pairs.

35,00 EUR

(19 % VAT incl. excl. Shipping costs)
Deliverable from October 2018

The X-STAGE is a portable pole dancing podium that can be assembled in just a few minutes giving you the flexibility to take the stage wherever it suits you best. The X-STAGE stands alone and does not need to be secured to a ceiling thanks to a robust design that is strong enough to handle the most demanding of moves.

from 729,95 EUR

(19 % VAT incl. excl. Shipping costs)
Itac2 now comes in a super practical packaging, the iTac2 STICK IT which is smaller and easier to apply through the twist up stick. Available in Regular and Extra Strength.

instead of 11,90 EUR
only

9,99 EUR


you save

16

% / 1,91 EUR (19 % VAT incl. excl. Shipping costs)
Peru Velvet Shorts - RAD Polewear

35,00 EUR

(19 % VAT incl. excl. Shipping costs)
This Product was added to our catalogue on Thursday 17 January, 2013.