Contains 5 ml samples of each formula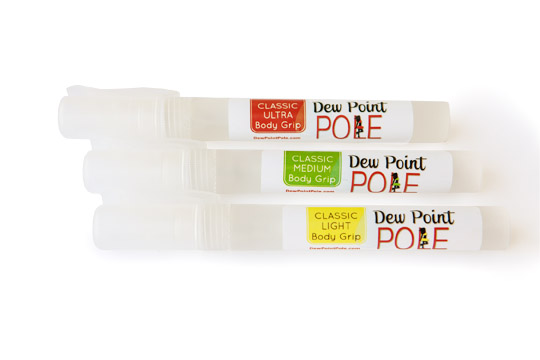 Dew Point Pole naturally moisturizes your skin while increasing your grip on the pole. With this revolutionary new moisturizer you no longer have to choose between dry skin OR the pole… you can have it all!
Oil free
Not Tacky, Greasy or Chalky
Moisturizes without being slippery
A grip agent that is actually good for your skin
Available in Light, Medium and Ultra
Perfect for pole dancing, silks, aerial hoop and more!
"So light you won't know it's there, but you'll definitely know when it's not!"
How do I know which formula is right for me?
The formulas are named based upon the amount of moisture they give, Light delivering the least amount and Ultra the highest. It also reacts to the environment you are in, making the climate a factor.

So, you might want to try the light if:
you live in a very humid climate or if your skin is not very dry.
You might want to try the medium if:
you live in a humid climate and your skin is very dry.
You have average skin and your climate fluctuates, sometimes it is more humid or dry than others.
You are unsure which formula to get, this gives you a good starting point.
You may want to try the Ultra if:
you live in a dry climate and your skin is dry.
You live in an average climate but your skin is very dry
Many of our customers use 2 formulations. One for winter when it is drier and one for summer when it is usually a bit more humid. We also have customers that use one formula for when they are home and another formula to suit the climate of wherever it is they may be going for competitions/tours/performances.
Customer reviews:
Please log in to write a review
Customers who bought this product also bought the following products:
Poledancerka Knee Pads© are the latest must-haves for all poledancers and dance lovers. Trusted and used heavily by celebrity poledancers: Daria Che, Marion Crampe and Maddie Sparkle, Sergia Louise Anderson, Phoenix Kazree, Amy Hazel and thousands of other professional pole dancers around the world.

Made in Slovenia using only quality Italian and Slovenian materials.

Fabric: 85% polyamide, 15% elastane; Net: 100% polyester; Leather immitation: 80% cotton, 20% polyurethane

Sold in pairs.

35,00 EUR

(19 % VAT incl. excl. Shipping costs)
LUPIT POLE MAT has been designed for studios and for the home. It can be simply carried around and quickly setup to provide safety when exercising on the pole. It is made of high quality material.

For this item, additional shipping surcharge for deliveries outside of Germany will apply.

instead of 272,00 EUR
only

from 169,00 EUR


you save

38

% / 103,00 EUR (19 % VAT incl. excl. Shipping costs)

The X-STAGE and X-STAGE LITE are portable pole dancing podiums that can be assembled in just a few minutes giving you the flexibility to take the stage wherever it suits you best. The X-STAGE stands alone and does not need to be secured to a ceiling thanks to a robust design that is strong enough to handle the most demanding of moves.

from 729,80 EUR

(19 % VAT incl. excl. Shipping costs)
These gloves are specially developed for pole dancing and pole yoga. They are suitable for all levels from beginner to expert. The gloves are available in two versions: less adherent (non-tack) and stronger adhesion (tack). The less adherent (non-tack) gloves are designed for static (non-spinning) pole dance poles because they allow spinning around the pole more. The more adherent (tack) gloves can be used on spinning poles, because there they can improve the grip on the pole without interfering with the spinning.

18,20 EUR

(19 % VAT incl. excl. Shipping costs)
The Mighty Grip Pro Tack Gloves are designed for added protection and advanced grip.

instead of 27,00 EUR
only

24,00 EUR


you save

11

% / 3,00 EUR (19 % VAT incl. excl. Shipping costs)
The Pole Dance Safety Mat is a mat with a hole in the center, which can be placed around the pole dance pole. If you want to try new and more difficult moves, the pole dancing safety mat cushions each fall that may otherwise be painful. Thus the safety mat increases the safety of poledance trainings considerably.

Perfectly fits an X-Stage and X-Stage Lite.

The Aerial Safety Mat is a mat without a hole in the center.

190,00 EUR

(19 % VAT incl. excl. Shipping costs)
This Product was added to our catalogue on Thursday 10 March, 2016.