3 bottles of Dry Hands
Long-lasting non-greasy grip solution for enhanced performance while training on the pole and mastering those complex tricks. It feels natural, comfortable and leaves no annoying powdery residue on your skin nor your sports wear. It is water repellent, so no more slippery mess from sweat or humidity!
Highly demanded product and highly recommendable by long-time pole professionals.
Available in 29.5ml and 59ml bottles. It is of course, more environmentally-friendly to get the bigger bottle.
Application: Clean and dry hands prior to application. Dispense a small amount into the palm and spread evenly across the surface. Allow to air dry for approximately 15 seconds.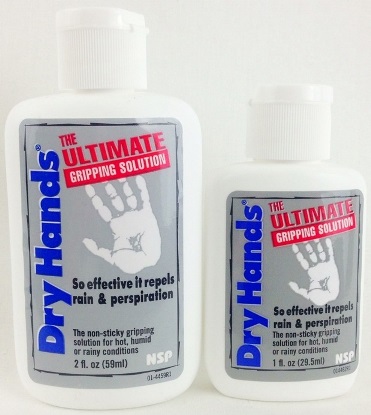 Customer reviews:
Please log in to write a review
Customers who bought this product also bought the following products:
Bring out the kitten in you this winter with these sexy leg warmers. Great for warming up!

Length: 80cm

100% Acrylic

One size fits all


13,95 EUR

(19 % VAT incl. excl. Shipping costs)
The Mighty Grip Pro Tack Gloves are designed for added protection and advanced grip.

instead of 27,00 EUR
only

24,00 EUR


you save

11

% / 3,00 EUR (19 % VAT incl. excl. Shipping costs)
Poledancerka Knee Pads© are the latest must-haves for all poledancers and dance lovers. Trusted and used heavily by celebrity poledancers: Daria Che, Marion Crampe and Maddie Sparkle, Sergia Louise Anderson, Phoenix Kazree, Amy Hazel and thousands of other professional pole dancers around the world.

Made in Slovenia using only quality Italian and Slovenian materials.

Fabric: 85% polyamide, 15% elastane; Net: 100% polyester; Leather immitation: 80% cotton, 20% polyurethane

Sold in pairs.

instead of 35,00 EUR
only

from 31,50 EUR


you save

10

% / 3,50 EUR (19 % VAT incl. excl. Shipping costs)

The X-Pole Home Mount & Insert is compatible with the XPert Spinning Poles (PX and NX models) in 40mm and 45mm diameters. It is designed to increase pole stability and at the same time, blend into the ceiling for a sleeker overall look of the pole in your home or dance studio.

This item includes the Home Mount and a short shaft insert.

69,50 EUR

(19 % VAT incl. excl. Shipping costs)
The Pole Dance Safety Mat is a mat with a hole in the center, which can be placed around the pole dance pole. If you want to try new and more difficult moves, the pole dancing safety mat cushions each fall that may otherwise be painful. Thus the safety mat increases the safety of poledance trainings considerably.

Perfectly fits an X-Stage and X-Stage Lite.

The Aerial Safety Mat is a mat without a hole in the center.

instead of 190,00 EUR
only

171,00 EUR


you save

10

% / 19,00 EUR (19 % VAT incl. excl. Shipping costs)
Peru Velvet Shorts - RAD Polewear

35,00 EUR

(19 % VAT incl. excl. Shipping costs)
This Product was added to our catalogue on Friday 24 October, 2014.