The popular Eve Top by RAD is back, now in silky smooth sensuous velvet.

Size chart:
XS 81.5cm
S 87.5cm
M 94 cm
L 106.5cm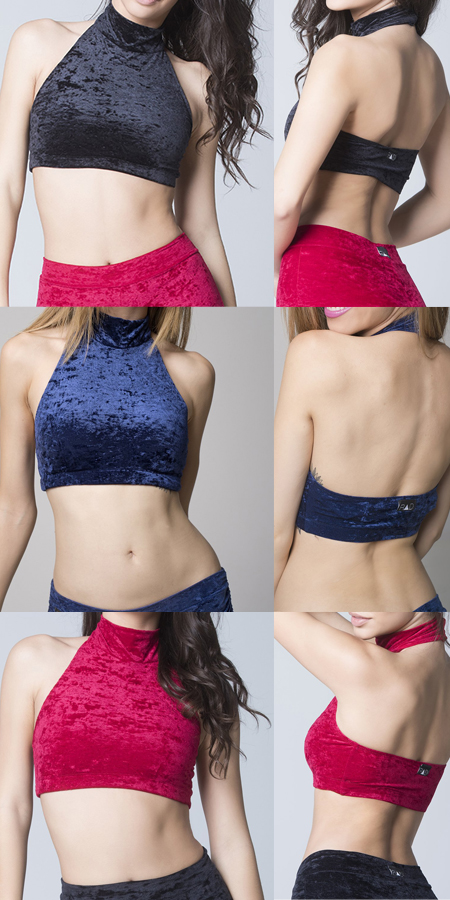 Customer reviews:
Please log in to write a review
Customers who bought this product also bought the following products:
Designed and modified this top specially for voluptuous women in mind. The crop design flatters the waist, while the straps flatter the back muscles. Perfect for just about everything. Sport it in the studio or at the gym; class it up and wear it under loose fitting dresses and tops, or with a high-waist maxi skirt. Change the straps according to your mood: wear it over the shoulder and down the back, or criss-cross them on the back for extra support and lift.

45,95 EUR

(19 % VAT incl. excl. Shipping costs)
The PoleFit Criss Cross Brazil Shorts have a Brazilian style back cut, combined with a scrunch butt! The shorts are made of an elastic material that moves less on the skin, so it stays in place even with complicated moves. Now with sexy criss cross motif for even more support and style!

instead of 32,95 EUR
only

29,00 EUR


you save

12

% / 3,95 EUR (19 % VAT incl. excl. Shipping costs)
Another versatile, sexy and alluring top from RAD. Great for pole dance practice and for going out.

35,00 EUR

(19 % VAT incl. excl. Shipping costs)
These lovely Side String Velvet shorts by RAD Polewear will add that extra flare and glamour to any pole dancing routine. Designed and improved to provide comfort and confidence to poledancers. Made with care from sensuous soft silky smooth velvet fabric.

33,00 EUR

(19 % VAT incl. excl. Shipping costs)
This Product was added to our catalogue on Thursday 30 March, 2017.