Welcome to our new line of quality clothing designed for poledancing and fitness - introducing Mika Poledance Clothing!
Designed to move with your body, so you don't worry about adjusting during movements. This low-rise short has a comfortable and flattering back rouching design, and provides good coverage.
Features: Back-rouching for extra comfort.

Fabric: Perfit

Care: Wash with like colors. For best results, hang dry, or tumble low. Do not wash with towels.

Inseam: 3cm

Flat Seams to avoid chafing.

Waistband flexibility provides about 10cm of stretch.
Size chart:
| | | | | |
| --- | --- | --- | --- | --- |
| Kiki Shorts | XS/S | S/M | M/L | L/XL |
| Size | 34 | 36 | 38 | 40 |
| Waist cm | 61-66 | 67-70 | 71-77 | 78-86 |
| Hip/Drop waist cm | 66-79 | 80-89 | 90-98 | 99-105 |
| Bum cm | 84-89 | 90-94 | 95-97 | 98-101 |
| Inseam of short- lining cm | 4.5 | 4.5 | 4.5 | 4.5 |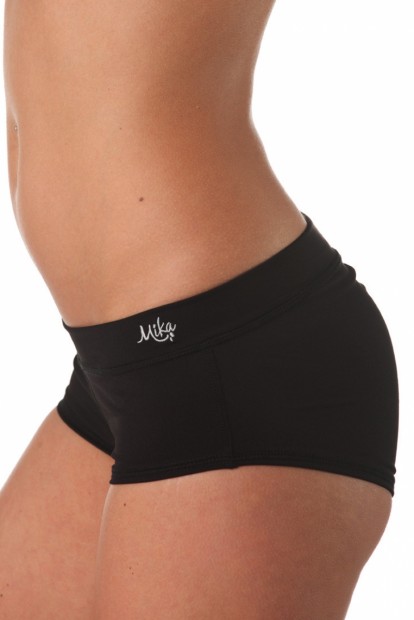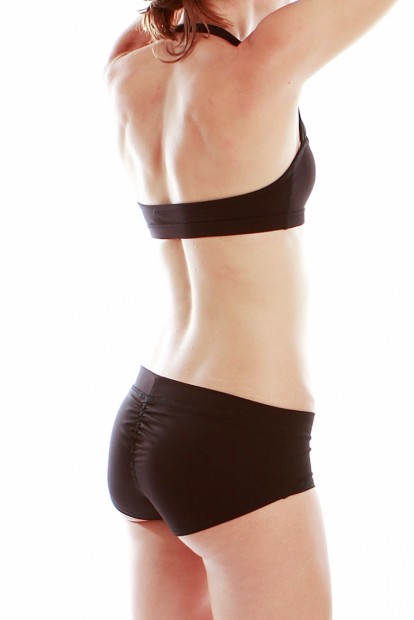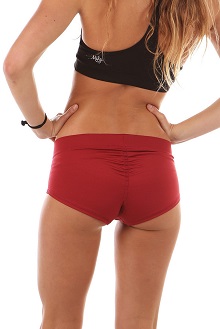 Customer reviews:
Please log in to write a review
Customers who bought this product also bought the following products:
Long-lasting non-greasy grip solution for enhanced performance while training on the pole and mastering those complex tricks. It feels natural, comfortable and leaves no annoying powdery residue on your skin nor your sports wear.

instead of 59,40 EUR
only

from 52,00 EUR


you save

12

% / 7,40 EUR (19 % VAT incl. excl. Shipping costs)
Long, lean, super-flattering, comfortable, and perfect for everything.The Gabby pants features a new added scrunch on the bottom for a playful and fun look. Wear it with the bottom around your ankles, or wrap it around your heel. Made for high-impact and high-performance dance, yoga, and other fun activities cool chicks do.

65,95 EUR

(19 % VAT incl. excl. Shipping costs)
The Mighty Grip Original Knee Pads are widely used in sports and fitness for comfortable knee protection featuring an open back to enhance breathability and flexibility.

29,95 EUR

(19 % VAT incl. excl. Shipping costs)
The Mighty Grip wrist and thumb support provides optimum protection for your wrist against stress and injury during poledance. Recommended for athletes training with a lot of pressure on the wrist, such as hand springs on the pole, upside-down tricks, and handstands. The tack strips on the palm provide extra grip on the pole.

Sold in right or left side.

17,99 EUR

(19 % VAT incl. excl. Shipping costs)
The Heroine Liquid Vinyl Leggings by Cleo the Hurricane are made of shiny vinyl which is tacky and therefore allows pole dancers to have good grip on the pole, not to mention, to feel and look bad ass, slick and sexy.

instead of 65,00 EUR
only

60,00 EUR


you save

8

% / 5,00 EUR (19 % VAT incl. excl. Shipping costs)
Perfect for dance, hot yoga, aerial dance (silks and hoops), and poledance.The soft waistband avoids muffin-tops.

"Melt into these capris and feel your new second skin. They offer so much comfort and style you don't want to take them off."

57,95 EUR

(19 % VAT incl. excl. Shipping costs)
This Product was added to our catalogue on Sunday 09 June, 2013.