LUPIT POLE MAT has been designed for studios and for the home. It can be simply carried around and quickly setup to provide safety when exercising on the pole. It is made of high quality material.
Colours: black, pink, silver or gold
Diameter: 1500 mm
Thickness: 8cm or 12cm
LUPIT POLE MAT features:
• Made of high quality elastic leather
• Lower surface is made of anti slippery material to ensure the Mat does not move
• Fast installation.
• Designed to be folded together and carried around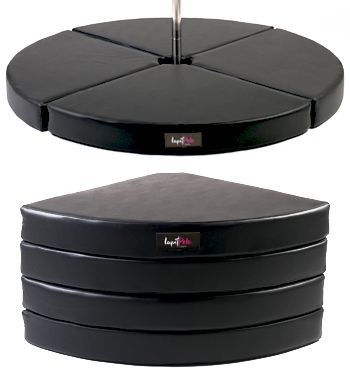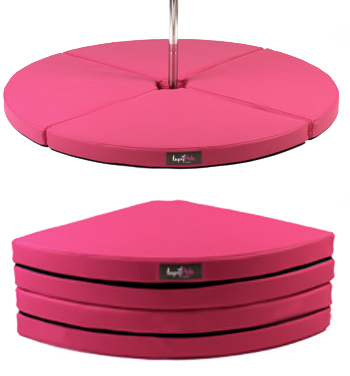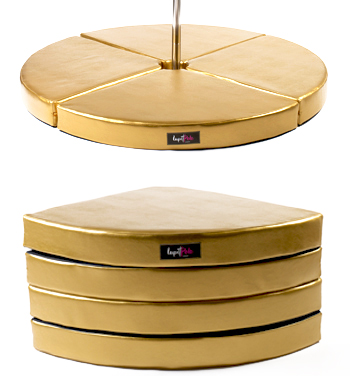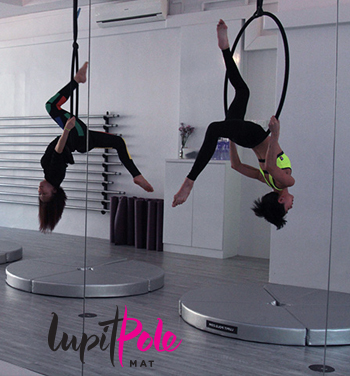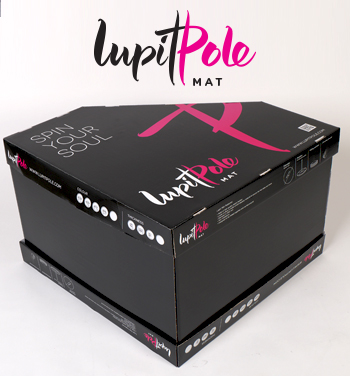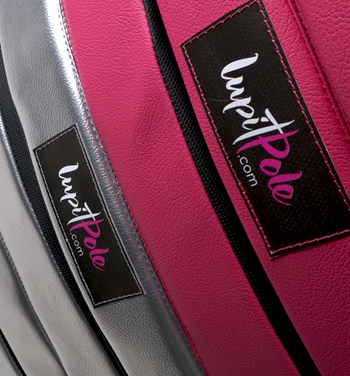 For this item, additional shipping surcharge for deliveries outside of Germany will apply.
Customer reviews:
Please log in to write a review
Customers who bought this product also bought the following products:

Spinning and static (switchable) chrome or stainless steel pole for advanced and professional dancers.

Length of Dancing Pole: adjustable from 2100mm up to 2800mm - can be extended to 3200mm using the Lupit pole extension sold here.

Diameter: 45mm

from 328,50 EUR

(19 % VAT incl. excl. Shipping costs)
The X-DRY Sport Grip is a new odorless, colourless grip enhancer for sports and dance. It provides better grip on the pole and improves the stability and security of the dancer on the pole. The X-DRY Sport Grip is skin-friendly and is long lasting, water repellant and is the ultimate solution for sweaty hands. X-DRY Sport Grip comes in a handy 40ml tube that fits in your gym bag. It is fast becoming a bestseller for a firm hold among professional pole dancers.

14,50 EUR

(19 % VAT incl. excl. Shipping costs)
Itac2 now comes in a super practical packaging, the iTac2 STICK IT which is smaller and easier to apply through the twist up stick. Available in Regular and Extra Strength.

instead of 11,90 EUR
only

10,99 EUR


you save

8

% / 0,91 EUR (19 % VAT incl. excl. Shipping costs)
Special ankle protector that can be worn with high-heels. The protectors are with tack for additional support and safety on the pole. They have an extension that closes under the arch of the shoe so it stays in place perfectly.

29,95 EUR

(19 % VAT incl. excl. Shipping costs)
New style 2018 original knee pads (short style) by Mighty Grip. Mighty Grip Original Knee Pads in long style is also available.

39,99 EUR

(19 % VAT incl. excl. Shipping costs)
The Mighty Grip wrist and thumb support provides optimum protection for your wrist against stress and injury during poledance. Recommended for athletes training with a lot of pressure on the wrist, such as hand springs on the pole, upside-down tricks, and handstands. The tack strips on the palm provide extra grip on the pole.

Sold in right or left side.

17,99 EUR

(19 % VAT incl. excl. Shipping costs)
This Product was added to our catalogue on Wednesday 11 March, 2015.