The Mighty Grip Pro Tack Gloves are designed for added protection and advanced grip.

They are great for strength training and any fitness activity requiring advanced grip and endurance. They are also widely used and recommended by atheletes in aerial dance, lifting, cross-fit, ring, bars, poledance, trapeze, handbalancing, and gymnastics.

The Mighty Grip Pro Tack Gloves are sewn with heavy duty nylon thread with a tight double stitch. The gloves are flexible and mold to the palm of your hand for a snug fit.

Tips: Take them off and on like socks (inside-out). To prevent the gloves from slipping against your skin, make sure it fits on tight and apply a small amount of Mighty Grip Powder to the palms of your hand before putting the gloves on.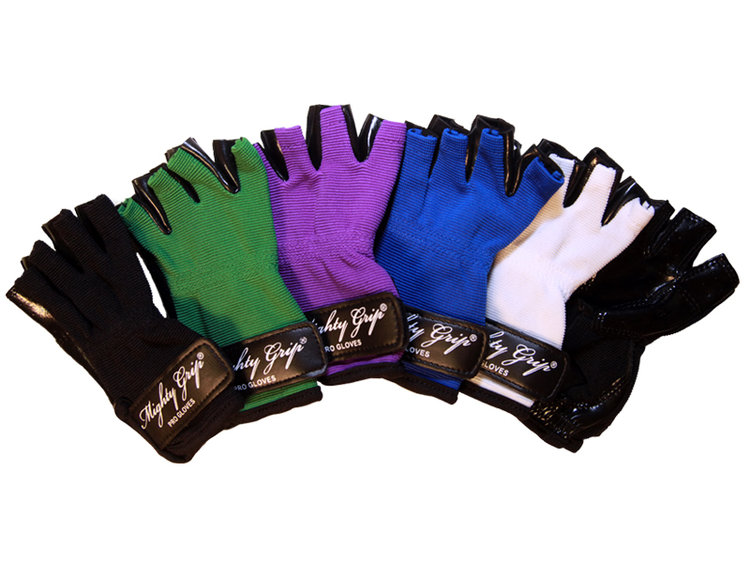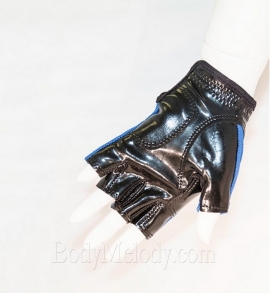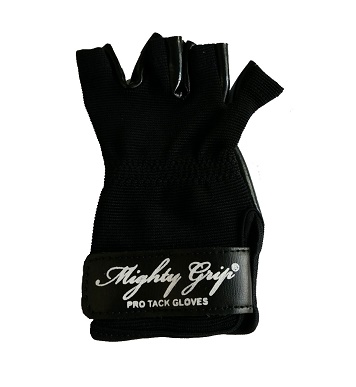 Customer reviews:
Please log in to write a review
Customers who bought this product also bought the following products:
A popular model from the 2013 Polefit line with racer style back supported by a "trinity" of elastic straps on the back. The Trinity poledance top looks sporty and sexy and provides full coverage and total support for those complicated overhead movements during poledance.

instead of 43,00 EUR
only

39,00 EUR


you save

9

% / 4,00 EUR (19 % VAT incl. excl. Shipping costs)
Poledancerka Knee Pads© are the latest must-haves for all poledancers and dance lovers. Trusted and used heavily by celebrity poledancers: Daria Che, Marion Crampe and Maddie Sparkle, Sergia Louise Anderson, Phoenix Kazree, Amy Hazel and thousands of other professional pole dancers around the world.

Made in Slovenia using only quality Italian and Slovenian materials.

Fabric: 85% polyamide, 15% elastane; Net: 100% polyester; Leather immitation: 80% cotton, 20% polyurethane

Sold in pairs.

instead of 36,00 EUR
only

31,50 EUR


you save

13

% / 4,50 EUR (19 % VAT incl. excl. Shipping costs)
This grip enhancer with all natural ingredients improves your grip and stability on the pole and reduces sliding. It is available in 2 levels of strength.

instead of 18,50 EUR
only

15,00 EUR


you save

19

% / 3,50 EUR (19 % VAT incl. excl. Shipping costs)
The Pole Dance Safety Mat is a mat with a hole in the center, which can be placed around the pole dance pole. If you want to try new and more difficult moves, the pole dancing safety mat cushions each fall that may otherwise be painful. Thus the safety mat increases the safety of poledance trainings considerably.

The Aerial Safety Mat is a mat without a hole in the center.

The safety mat is available in different colors and thicknesses.

from 230,00 EUR

(19 % VAT incl. excl. Shipping costs)

X-Pole XPert for advanced and professional dancers. Adjustable between spinning and static modes.

Length of Dancing Pole: Adjustable from 2,235m (7′ 4″) up to 2,745m (9′) - can be extended up to max. 3,37m using extensions.

instead of 269,90 EUR
only

from 258,90 EUR


you save

4

% / 11,00 EUR (19 % VAT incl. excl. Shipping costs)
These gloves are specially developed for pole dancing and pole yoga. They are suitable for all levels from beginner to expert. The gloves are available in two versions: less adherent (non-tack) and stronger adhesion (tack). The less adherent (non-tack) gloves are designed for static (non-spinning) pole dance poles because they allow spinning around the pole more. The more adherent (tack) gloves can be used on spinning poles, because there they can improve the grip on the pole without interfering with the spinning.

18,20 EUR

(19 % VAT incl. excl. Shipping costs)
This Product was added to our catalogue on Thursday 09 November, 2017.