The Mighty Grip Arm Band is elastic and designed with tack strips to protect the tender area around the biceps. Can be used with or without the tack strips by adjusting the band around the arm. The tack strips will provide grip for learning and practicing arm holds on the pole.
Sold in pairs.
Sizing Chart (measure around the muscle area of the upper arm)
XS 7"-8" / 18-20cm
S 8"-9" / 20-23cm
M 9"-10" / 23-25cm
L 10"-12" / 25-30cm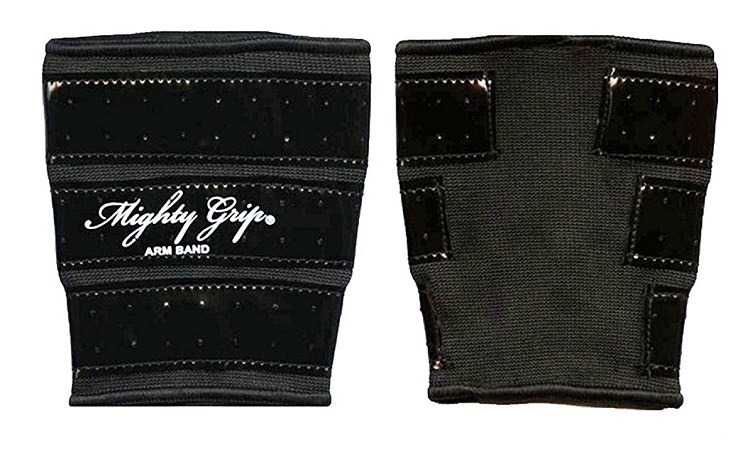 Customer reviews:
Please log in to write a review
Customers who bought this product also bought the following products:
The Mighty Grip Thigh Protector is essential for beginners in practicing leg holds on the pole. Sold in pairs.

29,95 EUR

(19 % VAT incl. excl. Shipping costs)
This supportive pole dancing top is beautifully styled and has elastic banding under the chest for support and a unique back design. This top does not cover the skin around the shoulders like other tops. This enables the pole dancer to use the full arm, shoulders and parts of the back to hold on to the pole. The Spider-Back poledance top is made of elastic material and doesn't move on the skin and stays in place even during advanced movements.

29,95 EUR

(19 % VAT incl. excl. Shipping costs)
The PoleFit Brazil Shorts are Brazilian-cut shorts with a scrunch back for an enhanced shape and look. These shorts are specially-designed for pole dance and is currently the bestselling shorts in the pole dance industry. With the optimum amount of skin exposure around the thighs and buttocks, these shorts allow more grip on the pole during complicated moves that require much hold from the thighs and butt cheeks. The Brazil shorts are made of an elastic material that minimizes movement against the skin so it stays in place and provides optimum coverage during leg extensions, splits and leg stretches.

29,95 EUR

(19 % VAT incl. excl. Shipping costs)
These gloves are specially developed for pole dance and pole yoga. They are suitable for all levels from beginner to expert. The gloves are available in two versions: less adherent (non-tack) and stronger adhesion (tack). The less adherent (non-tack) gloves are designed for static (non-spinning) pole dance poles because they allow spinning around the pole more. The more adherent (tack) gloves can be used on spinning poles, because there they can improve the grip on the pole without interfering with the spinning.

instead of 18,20 EUR
only

14,50 EUR


you save

20

% / 3,70 EUR (19 % VAT incl. excl. Shipping costs)
This Product was added to our catalogue on Wednesday 25 October, 2017.