The Mighty Grip Thigh Protector is essential for beginners in practicing leg holds on the pole. Sold in pairs.
Sizing Chart (measured around the thickest part of the thigh)
S 16"-18"/ 40-46cm
M 18"-20"/ 46-51cm
L 20"-22"/ 51-56cm
XL 22"-25"/ 56-64cm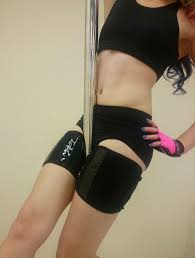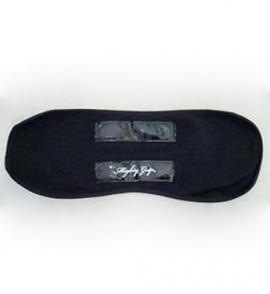 Customer reviews:
Please log in to write a review
Customers who bought this product also bought the following products:
The Mighty Grip wrist and thumb support provides optimum protection for your wrist against stress and injury during poledance. Recommended for athletes training with a lot of pressure on the wrist, such as hand springs on the pole, upside-down tricks, and handstands. The tack strips on the palm provide extra grip on the pole.

Sold in right or left side.

17,99 EUR

(19 % VAT incl. excl. Shipping costs)

The X-STAGE and X-STAGE LITE are portable pole dancing podiums that can be assembled in just a few minutes giving you the flexibility to take the stage wherever it suits you best. The X-STAGE stands alone and does not need to be secured to a ceiling thanks to a robust design that is strong enough to handle the most demanding of moves.

from 729,80 EUR

(19 % VAT incl. excl. Shipping costs)
The Pole Dance Safety Mat is a mat with a hole in the center, which can be placed around the pole dance pole. If you want to try new and more difficult moves, the pole dancing safety mat cushions each fall that may otherwise be painful. Thus the safety mat increases the safety of poledance trainings considerably.

Perfectly fits an X-Stage and X-Stage Lite.

The Aerial Safety Mat is a mat without a hole in the center.

190,00 EUR

(19 % VAT incl. excl. Shipping costs)

Spinning and static (switchable) chrome or stainless steel pole for advanced and professional dancers.

Length of Dancing Pole: adjustable from 2100mm up to 2800mm - can be extended to 3200mm using the Lupit pole extension sold here.

Diameter: 45mm

from 328,50 EUR

(19 % VAT incl. excl. Shipping costs)
Poledancerka Knee Pads© are the latest must-haves for all poledancers and dance lovers. Trusted and used heavily by celebrity poledancers: Daria Che, Marion Crampe and Maddie Sparkle, Sergia Louise Anderson, Phoenix Kazree, Amy Hazel and thousands of other professional pole dancers around the world.

Made in Slovenia using only quality Italian and Slovenian materials.

Fabric: 85% polyamide, 15% elastane; Net: 100% polyester; Leather immitation: 80% cotton, 20% polyurethane

Sold in pairs.

36,00 EUR

(19 % VAT incl. excl. Shipping costs)
The Mighty Grip Arm Band is elastic and designed with tack strips to protect the tender area around the biceps. Can be used with or without the tack strips by adjusting the band around the arm. The tack strips will provide grip for learning and practicing arm holds on the pole.

23,95 EUR

(19 % VAT incl. excl. Shipping costs)
This Product was added to our catalogue on Wednesday 25 October, 2017.