This set consists of:
2x Carabiners Screw Gate (MBS 25kN) Black
1x Swivel Oval (MBS 36kN) Black
Perfect accessories for rigging aerial hoops/lyra. Please note that you may still require aerial strops and extra carabiners for 2-point aerial hoops.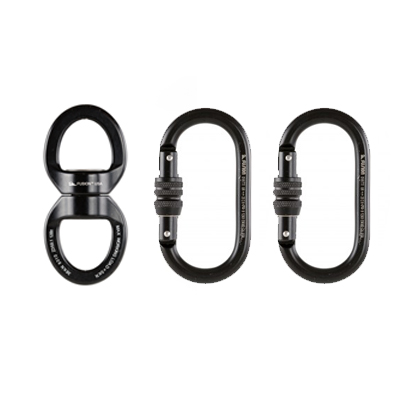 Customer reviews:
Please log in to write a review
This product is compatible with:
Aerial hoops, also known as aerial rings or lyras, are a classic aerial circus performance props. Firetoys Aerial hoops are made from premium grade steel with a black matt or white finish and come in a variety of sizes. They are built to exacting standards in UK workshops as the ideal beginner and intermediate lyra.

One point hoops are generally favoured for their wide versatility, but will rotate slightly even when rigged without a swivel, if you don't want your hoop to rotate at all, we suggest one of the two point aerial hoops.

from 168,00 EUR

(19 % VAT incl. excl. Shipping costs)
Customers who bought this product also bought the following products:
The X-Pole Lyra Pole is fully compatible with both X-Stage and X-Stage Lite in 45mm diameter. The hoop tube has a black powder-coated finish and a diameter of 34mm. It utilizes the X-Joint Technology for quick assembly on the X-Stage Pole. It is available in two hoop diameters - 950mm and 1050mm.

It is a great way to add a new dimension to your beloved X-Stage and challenge your poledance skills and aerial hoop artistry.

239,00 EUR

(19 % VAT incl. excl. Shipping costs)

The X-STAGE and X-STAGE LITE are portable pole dancing podiums that can be assembled in just a few minutes giving you the flexibility to take the stage wherever it suits you best. The X-STAGE stands alone and does not need to be secured to a ceiling thanks to a robust design that is strong enough to handle the most demanding of moves.

from 729,80 EUR

(19 % VAT incl. excl. Shipping costs)
A 50m roll of 3.8cm wide adhesive cotton tape to dress trapeze bars, aerial rings and other aerial equipment.

32,00 EUR

(19 % VAT incl. excl. Shipping costs)
The PoleFit Criss Cross Brazil Shorts have a Brazilian style back cut, combined with a scrunch butt! The shorts are made of an elastic material that moves less on the skin, so it stays in place even with complicated moves. Now with sexy criss cross motif for even more support and style!

instead of 32,95 EUR
only

29,00 EUR


you save

12

% / 3,95 EUR (19 % VAT incl. excl. Shipping costs)
Black polyester fibre slings used for rigging aerial equipment.
Working Load Limit: 2000 kg


from 12,60 EUR

(19 % VAT incl. excl. Shipping costs)
The Aerial Hoop, also known as "Lyra", is a metal apparatus (steel or aluminium) that looks like a suspended hula-hoop. Aerial hoops are usually available in single point and double point configurations.

199,95 EUR

(19 % VAT incl. excl. Shipping costs)
This Product was added to our catalogue on Thursday 18 January, 2018.