The X-Pole A-Frame is the bestselling free-standing equipment on the market for aerial dance and aerial fitness. The A-Frame can be used from 2235mm (7.6ft) up to 3350mm (11ft). When the A-Frame is at its lowest height, it will require a floor area of 4.4 sqm and when fully extended will require an area of 8.9 sqm.

The X-Pole A-Frame Set consists of 7 pieces and includes the following:
4 telescopic legs with feet attached
2 connectors
1.4m top bar
Pins
Straps
Carry bags

1 for frame tubes
1 for connectors and accessories

Weight bags (sand not included)
The X-Pole A-Frame features:
Free-standing frame – allows for set up anywhere indoors or outdoors
Adjustable/Multiple Heights from 2235mm (7.6ft) up to 3350mm (11ft) using the telescopic legs
Quick Assembly – all pieces can be stored safely in multi-piece bags
Multi-discipline – swap between aerial silk, trapeze hammock, flying pole and hoop
Portability – The light-weight frame can be packed into bags for ease of transportation.
The A-Frame is rated up to 150kg for normal aerial training with silks and hoop and static trapeze. The A-Frame is NOT suitable for use with swinging practice or choreography which includes swinging motions.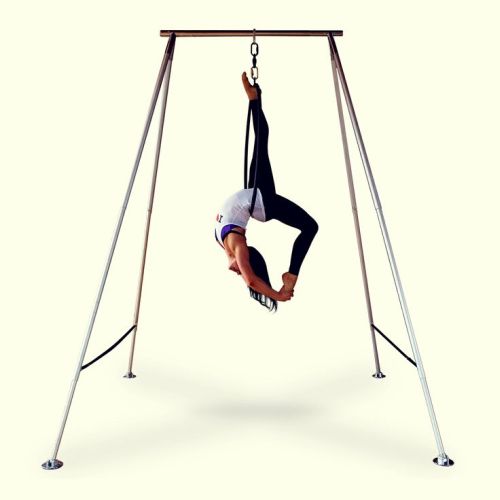 For this item, additional shipping surcharge will apply.
Customer reviews:
Please log in to write a review
Customers who bought this product also bought the following products:
Black polyester fibre slings used for rigging aerial equipment.
Working Load Limit: 2000 kg


from 22,60 EUR

(19 % VAT incl. excl. Shipping costs)
This Product was added to our catalogue on Monday 14 August, 2017.