The X-POLE powder-coated spinning poles are offered in two finishes; Black & Pink. The pole is VERY sticky and is only recommended for those who struggle for grip on the traditional metal poles.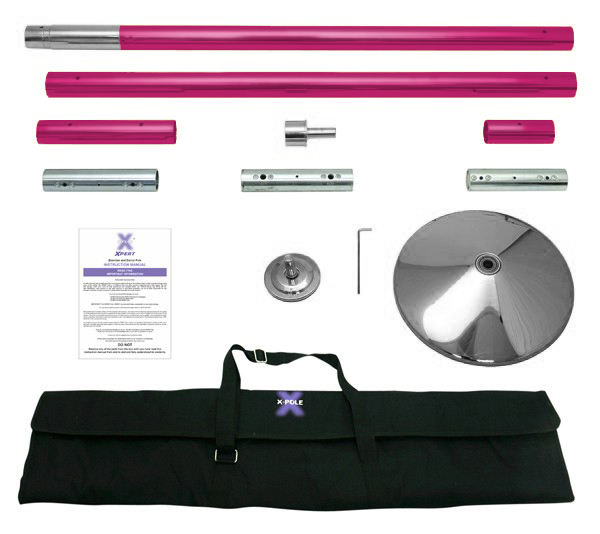 This pole should only be used up to a ceiling height of 3.37m.
Customer reviews:
Please log in to write a review
Author: Andrea Poliszcssak am 24/08/2017
Evaluation:

Customers who bought this product also bought the following products:
These full tack knee protectors are specially designed for maximum comfort and a smooth fit around the knees for any pole dance choreography that incorporates a lot of floorwork.

instead of 30,95 EUR
only

29,90 EUR


you save

3

% / 1,05 EUR (19 % VAT incl. excl. Shipping costs)
Itac2 now comes in a super practical packaging, the iTac2 STICK IT which is smaller and easier to apply through the twist up stick. Available in Regular and Extra Strength.

instead of 11,90 EUR
only

10,99 EUR


you save

8

% / 0,91 EUR (19 % VAT incl. excl. Shipping costs)
These gloves are specially developed for pole dance and pole yoga. They are suitable for all levels from beginner to expert. The gloves are available in two versions: less adherent (non-tack) and stronger adhesion (tack). The less adherent (non-tack) gloves are designed for static (non-spinning) pole dance poles because they allow spinning around the pole more. The more adherent (tack) gloves can be used on spinning poles, because there they can improve the grip on the pole without interfering with the spinning.

instead of 18,20 EUR
only

14,50 EUR


you save

20

% / 3,70 EUR (19 % VAT incl. excl. Shipping costs)
The Heroine Liquid Vinyl Leggings by Cleo the Hurricane are made of shiny vinyl which is tacky and therefore allows pole dancers to have good grip on the pole, not to mention, to feel and look bad ass, slick and sexy.

65,00 EUR

(19 % VAT incl. excl. Shipping costs)
Designed to move with your body, so you don't worry about adjusting during movements. This low-rise short has a comfortable and flattering back rouching design, and provides good coverage.

39,95 EUR

(19 % VAT incl. excl. Shipping costs)
Bring out the kitten in you this winter with these sexy leg warmers. Great for warming up!

Length: 80cm

100% Acrylic

One size fits all


13,95 EUR

(19 % VAT incl. excl. Shipping costs)
This Product was added to our catalogue on Wednesday 01 July, 2015.