X-Stage Lite with Silicone Pole
Product no.: NST03LT-SN
835,00 EUR
This version of the X-Stage Lite is coated with silicone for maximum grip. This allows the dancer to climb the pole even fully clothed without sliding.
The X-Stage Lite is a free standing portable pole dance pole for dancers that perfom on stage and can not rely on a flat ceiling being available. This pole is suitable for outdoor performances and is the most universal of all dance poles. It can be assembled in a few minutes, and either be used as a spinning or static pole. The dancing stage, on which the X-Stage stands, is circular, 1.6 m in diameter and has no sharp edges or corners. The pole itself is 3m tall. Since the X-Stage Lite is a freestanding pole and also ensures maximum safety in demanding moves, it is heavy. Therefore, the carry bag has wheels for comfortable transportation. The X-Stage Lite meets the highest standards in clubs, fitness centers, fairs, shows and is the most technologically advanced pole currently available in the market.
With silicone coating. Silicone cannot be removed.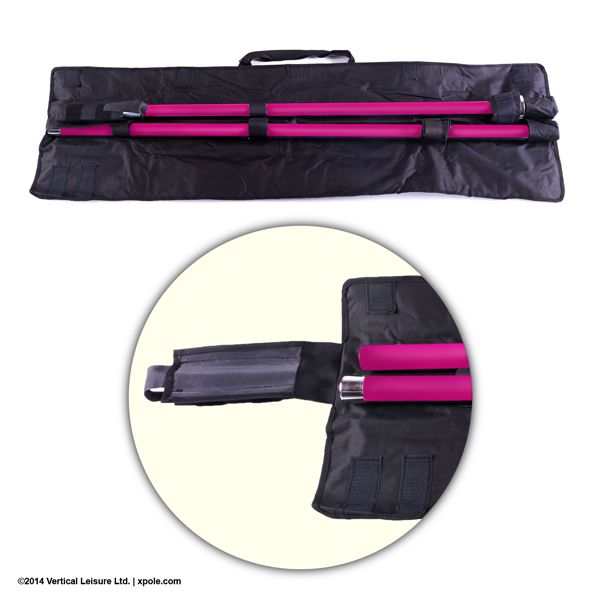 X-Stage Lite Features
spinning and static pole - easy to switch
1.60 m (5'3 ") circular stage floor - an ideal dance floor
Rounded edges – safe for the dancer
Stability - Extremely stable, almost every move can be made ​​without needing extra weight
Extension stabilizer (included) - improve the stability without additional weights
Weight holder - allows optional weights to be attached
Adjustable feet - to minimize the movement of the pole on uneven ground
silicone pads under the feet - to prevent slipping on smooth floors, and damaging or scratching the floor
Side covers - magnetic side covers for a professional appearance
Fully foldable - frame fits into the bag on wheels included
Easy assembly - 6 floor panels are easy to install, no tools required
pole easily separated into two pieces for transportation
Carry cases with wheels - for easy transportation

Specifications X-Stage Lite
Pole diameter 45/50mm
Stage diameter 1.6m (5' 3")
Overall height 3m (10')
Stage height 110mm (12.5')
Useable pole 2.89m (8' 10")

Weight (approx.)
X STAGE Lite complete 70kg
Main frame 20kg
Stage panels 40kg
Pole tubes 10kg
Can I use the X-Stage Lite with a ceiling lower than 3 meters?
Yes, the X-Stage Lite consists of 2 parts, each 1.5m long. The upper part can be replaced by a normal extension (New Style 2014). For instance, if your ceiling is 2.55m high, you can assemble the X-Stage Lite with a 1 meter extension with the bottom part to reach 2.5m.
1.5m + 1m = 2.5m height
For this item, additional shipping surcharge will apply.
Customers who bought this product also bought the following products:
There are no reviews yet.