Aerial hoops, also known as aerial rings or lyras, are a classic aerial circus performance props. The zero point hoop is made from premium grade steel with a black matt finish and come in a variety of sizes.
This aerial hoop has no attachment points. The benefit is aesthetic - you get a nice circle with no bits (rigging points) sticking out from it.

All sizes are EXTERNAL diameters.
Tube diameter 25.4mm
** All sizes refer to the EXTERNAL diameter. The internal diameter is 5cm less than the external diameter.
** Due to the lack of rigging points, the extra tough powder coating applied misses 2 spots where it needs to be hung from. These spots are covered with a permanent sticker. This sticker is not to be removed, and neither the sticker or the 2 uncoated spots are signs of damage and will not affect the hoop's use.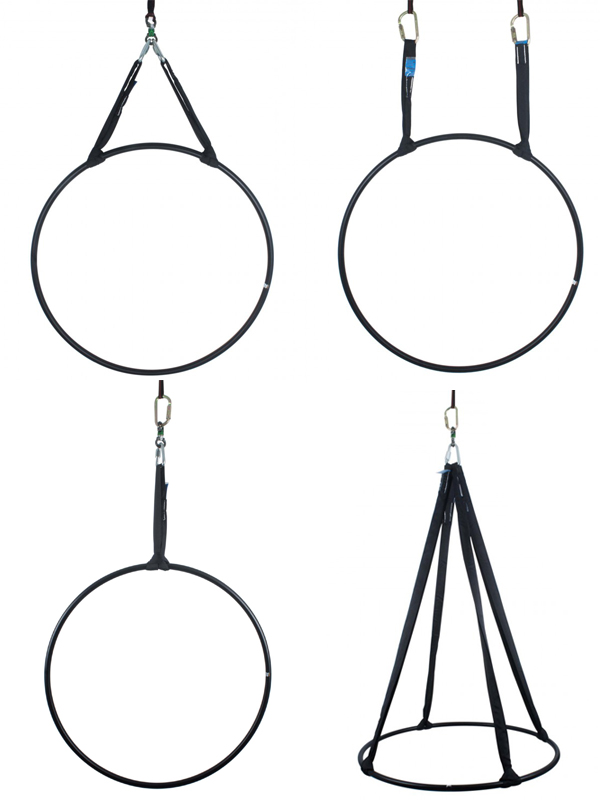 Customer reviews:
Please log in to write a review
Customers who bought this product also bought the following products:
A 50m roll of 3.8cm wide adhesive cotton tape to dress trapeze bars, aerial rings and other aerial equipment.

32,00 EUR

(19 % VAT incl. excl. Shipping costs)
Black polyester fibre slings used for rigging aerial equipment.
Working Load Limit: 2000 kg


from 12,60 EUR

(19 % VAT incl. excl. Shipping costs)
The Pole Dance Safety Mat is a mat with a hole in the center, which can be placed around the pole dance pole. If you want to try new and more difficult moves, the pole dancing safety mat cushions each fall that may otherwise be painful. Thus the safety mat increases the safety of poledance trainings considerably.

Perfectly fits an X-Stage and X-Stage Lite.

The Aerial Safety Mat is a mat without a hole in the center.

190,00 EUR

(19 % VAT incl. excl. Shipping costs)
POLEDANCE GRIP ENHANCER exclusively designed using innovative nanotechnology for the best grip on the pole.

14,90 EUR

(19 % VAT incl. excl. Shipping costs)
This Product was added to our catalogue on Thursday 11 January, 2018.