iTac2 STICK IT - Pole Fitness Grip 12g

Itac2 now comes in a super practical packaging, the iTac2 STICK IT which is smaller for ease of transportation and provides easier application through the twist-up stick.
Similar to the original Itac2, it is available in 2 different levels of strength. Your choice depends on how sweaty your hands are and the pole tricks:
Regular: For medium grip / Move, spin & slide / Climb and hold the pole securely / Suitable for most users
Extra Strong: For maximum grip / Best for learning new and high level tricks / Suitable for very sweaty hands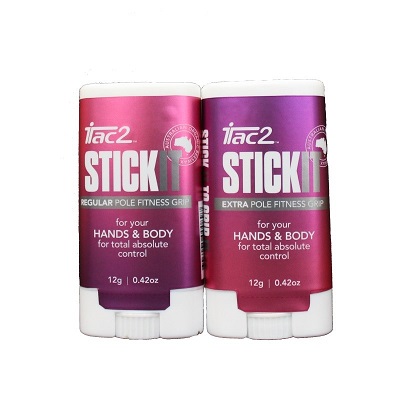 Customer reviews:
Please log in to write a review
Customers who bought this product also bought the following products:

The Pro XPert Spinning Pole (PX) with X-Lock is the upgraded version of the XPert Spinning Pole (NX).

from 314,50 EUR

(19 % VAT incl. excl. Shipping costs)
We offer X-POLE's Chinese Style poles which allow you to execute pole tricks without having skin contact with the pole, which simply means poling with your clothes on! This is great for beginners who want to build up their strength but do not want to take their clothing off. The silicone is placed onto the pole using a unique method and is a soft spongy material which can take the impact of hardcore moves.

instead of 349,00 EUR
only

from 349,90 EUR


you save

-0

% / -0,90 EUR (19 % VAT incl. excl. Shipping costs)
The X-Pole Lyra Pole is fully compatible with both X-Stage and X-Stage Lite in 45mm diameter. The hoop tube has a black powder-coated finish and a diameter of 34mm. It utilizes the X-Joint Technology for quick assembly on the X-Stage Pole. It is available in two hoop diameters - 950mm and 1050mm.

It is a great way to add a new dimension to your beloved X-Stage and challenge your poledance skills and aerial hoop artistry.

239,00 EUR

(19 % VAT incl. excl. Shipping costs)
Long-lasting non-greasy grip solution for enhanced performance while training on the pole and mastering those complex tricks. It feels natural, comfortable and leaves no annoying powdery residue on your skin nor your sports wear.

instead of 119,40 EUR
only

from 95,52 EUR


you save

20

% / 23,88 EUR (19 % VAT incl. excl. Shipping costs)
Stow Away and Reassemble your XPert Pole in Seconds!

259,95 EUR

(19 % VAT incl. excl. Shipping costs)
Black polyester fibre slings used for rigging aerial equipment.
Working Load Limit: 2000 kg


from 22,60 EUR

(19 % VAT incl. excl. Shipping costs)
This Product was added to our catalogue on Friday 15 April, 2016.