iTac2 STICK IT - Pole Fitness Grip 12g

Itac2 now comes in a super practical packaging, the iTac2 STICK IT which is smaller for ease of transportation and provides easier application through the twist-up stick.
Similar to the original Itac2, it is available in 2 different levels of strength. Your choice depends on how sweaty your hands are and the pole tricks:
Regular: For medium grip / Move, spin & slide / Climb and hold the pole securely / Suitable for most users
Extra Strong: For maximum grip / Best for learning new and high level tricks / Suitable for very sweaty hands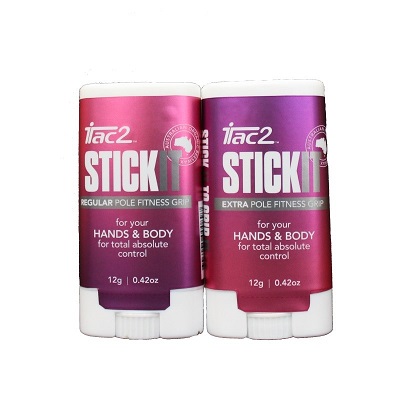 Customer reviews:
Please log in to write a review
Customers who bought this product also bought the following products:

The Pro XPert Spinning Pole (PX) with X-Lock is the upgraded version of the XPert Spinning Pole (NX).

from 359,00 EUR

(19 % VAT incl. excl. Shipping costs)
The Mighty Grip Original Knee Pads are widely used in sports and fitness for comfortable knee protection featuring an open back to enhance breathability and flexibility.

29,95 EUR

(19 % VAT incl. excl. Shipping costs)
Designed to prevent friction burns and skin tears during modern, lyrical and acrobatic style poledancing with barefeet.

23,95 EUR

(19 % VAT incl. excl. Shipping costs)
The PoleFit Criss Cross Brazil Shorts have a Brazilian style back cut, combined with a scrunch butt! The shorts are made of an elastic material that moves less on the skin, so it stays in place even with complicated moves. Now with sexy criss cross motif for even more support and style!

instead of 32,95 EUR
only

29,00 EUR


you save

12

% / 3,95 EUR (19 % VAT incl. excl. Shipping costs)
Poledancerka Knee Pads© are the latest must-haves for all poledancers and dance lovers. Trusted and used heavily by celebrity poledancers: Daria Che, Marion Crampe and Maddie Sparkle, Sergia Louise Anderson, Phoenix Kazree, Amy Hazel and thousands of other professional pole dancers around the world.

Made in Slovenia using only quality Italian and Slovenian materials.

Fabric: 85% polyamide, 15% elastane; Net: 100% polyester;  Leather immitation: 80% cotton, 20% polyurethane

Sold in pairs.

instead of 35,00 EUR
only

31,50 EUR


you save

10

% / 3,50 EUR (19 % VAT incl. excl. Shipping costs)
Bring out the kitten in you this winter with these sexy leg warmers. Great for warming up!

Length: 80cm

100% Acrylic

One size fits all


13,95 EUR

(19 % VAT incl. excl. Shipping costs)
This Product was added to our catalogue on Friday 15 April, 2016.